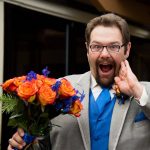 Kyle Schneider is in his 14th year of music education, and has spent the last 13 years here in Alaska. Growing up in Chicago, IL, he was surrounded by people and music of every genre, style, and type, and this has shaped his approach to teaching. Mr. Schneider attended Illinois State University, receiving his Bachelor's in Music Education in 2007 with focuses in Vocal Performance and Ethnomusicology (the study of the music of different cultures).
Mr. Schneider moved to Alaska in 2008, first teaching "PreK-12 everything" in the Seward Elementary, Middle, and High Schools, tasked by administration to reinvigorate the music programs in those three buildings. In addition to the re-establishment of a school program, he served as director of the Seward Community Band and Seward Community Choir. After four successful years there, the opportunity to teach in Homer opened up in 2012, and Mr. Schneider has been in Homer teaching 7-8 Mixed Choir, 9-12 Concert Choir, 9-12 Guitar, 9-12 US History, and the audition-based 10-12 Swing Choir ever since.
Mr. Schneider is an active member of the National Association for Music Education (NAfME), the American Choral Directors Association (ACDA), and state affiliates of the Alaska Music Educators Association (AMEA) serving as Region 3 South Secondary Representative, and the Alaska Choral Directors Association (AkCDA), currently serving as Past-President.
Mr. Schneider is an active chorister, director, actor, and soloist with Kenai Peninsula Community Choir, Kachemak Chorale, Pier One Theatre, and Kenai Peninsula Singers,  an alumni of four seasons of the Midwest Institute of Opera, has served as director of music ministry at St. John the Baptist Catholic Church, and maintains a small private studio.
He has also served as presider, presenter, and adjudicator for various festivals and conferences.
Mr. Schneider currently lives in Homer with his wife, Beth, and their Newfydoodle, Wrigley. He is a diehard Chicago Cubs and Chicago Blackhawks fan, and in his spare time, enjoys baking, cooking, fishing, photography, and traveling.